Halloween Fun Times at LA Haunted Hayride
---
Location: Los Angeles
Cost: $$
Sets:
Acting:
Theme:
Scare Factor:
---
Written by: The Bat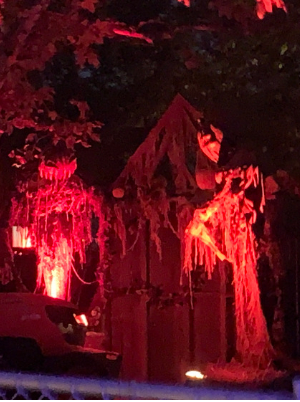 It seems lately like a lot of haunted attractions are focused on scaring their guests to tears. LA Haunted Hayride did advertise some scares, and it definitely achieved them.
One haunt had me hiding under the hood of my Daring Damsels hoody. I had to protect my hair from egg sacks that looked like they were going to burst into swarms of spiders at any minute. And a few of the startle scares, including one just inside the front gate, definitely made me squeak. But I got a shiny rock thanks to my awesome silica packet purse from Meow Wolf so it was totally worth it.
The Dragon got scared a few times… by the ground… and then by a ramp.
Dragon: Hey! The ground was really uneven at random. So it totally doesn't count! I stand by my "not getting scared" reputation. DERP EMOJI
And the patrons were heard screaming as we went through the haunts.
That being said, the mood throughout this experience seemed reminiscent of a Halloween Fair. It started by ushering us into a trailer filled with hay and driving us through a maze of fun animatronic and actor-centered pop scares. Then they set us loose into an area filled with booths, photo opportunities, and sooo much food! The smell of the cinnamon rolls alone was amazing!
We were also treated to a stage featuring what seemed to be some kind of comedy show. Although, it seemed to be an undead-dressed individual butchering some of my Favorite songs.
Dead End Diner

Then there were the mazes! Arranged in a triangle around an undead carousel were:
Dead End Diner, where you had to run through a hay bale maze to keep from becoming a cannibal's dinner.
Midnight Mortuary
Midnight Mortuary, a more traditional tour through a mortuary with some not quite dead tenants. One of the coolest things was the old carriage-style hearse outside of the haunt itself.
Trick or Treat
Trick or Treat, where guests were invited to trick or treat like children, with a much more chilling result. It was a lot of fun although a few times it felt almost like we were supposed to be playing ding dong ditch. Neither one of us could figure out if the issue was timing or maybe finicky motion sensors. Despite that, it was a lot of fun and the Dragon got super excited getting to ring a bunch of doorbells.
Sets:
While slightly campy at times, the sets were definitely well made. Large animatronics accented by the right amount of lighting and fog definitely led to several "look at that!" responses from guests waiting in line. The photo opportunities were well made and almost every guest seemed to stop for a selfie or 12 while they were there. We got some very fun pics of the Dragon by the carousel ourselves.
View this post on Instagram
The only slightly negative feedback I could give is that it seemed that most of the best pieces were set up outside the mazes instead of inside them. Which ended up giving a bit of a letdown feeling when you didn't see anything as good inside.
Acting:
The actors in the mazes seemed to do mostly pop scares, but they were well-timed and definitely used their noise props well. A few of these actors got me to shriek, and they were definitely succeeding on the guests around us. Also, I give many congratulations to the strolling actors. They employed a great variety of acting, including scares, jokes, and audience involvement. All, to send guests home laughing and talking about the haunt for hours afterward. I even had an actor scare me, compliment me and give me a shiny rock, all in one night!
Theme:
The hayride/fair theme definitely was woven throughout the entire experience. Even the mazes that were not part of the hayride had hay bale mazes as part of them. LA Haunted Hayride gave you the chance to ride in a hay truck, get fair food, take pics with your friends, and be chased through a hay bale maze all in one night! Definitely fun!
Scare Factor:
While, as mentioned, there were definitely startles and scares throughout the experience, I would give this one more of a fun factor than a scare factor. And that fun factor was top-notch!
---