Slay Belles: A Twist on Christmas Horror
Written by: The Bat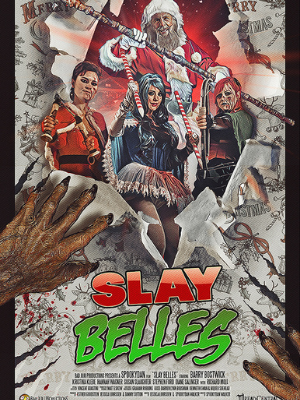 Synopsis
This Christmas movie has every bit of the normal trappings. There are appearances from Krampus and Santa, it takes place on Christmas, there are even Christmas cookies. But it takes a bit of a different plot direction than any of the other 12 Christmas horror movies I watched for you this year. It starts out with 3 girl vloggers dressed in cosplay-type holiday costumes invading Santa Land, a closed-down Christmas theme park. They are taping a YouTube show where they go to abandoned places and get up to silly hijinks, then take a souvenir to memorialize their adventures. After they arrive, things start to get weird and dangerous. As usual, my Readers, no spoilers, but I can tell you that they team up with an unusual Santa against a very well-made Krampus and his unexpected companion in a phenomenal way!
The Good
The storyline starts out a bit silly and continues to get sillier as the movie moves on. But in this case, that is an awesome thing. Because, while silly, it is entirely creative. There are at least 3 creative reveals that no one could have expected and 1 reveal that you do expect but is like no Christmas story I have ever read. This is nothing less than I would expect from producer and writer Spooky Dan Walker, also of The Devil's Carnival, one of my favorite Goth Rock Operas. (A fun tidbit, Hannah Minx of Devil's Carnival is also in this movie.)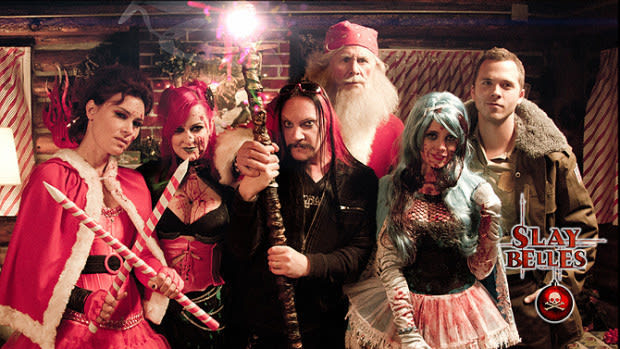 The makeup and costumes in this movie were very well done as well. The cosplay-style wigs and outfits the girls wore were very cute and well put together. But I definitely give the makeup department credit for their Krampus. He was very well put together, especially the teeth. Every time he opened his mouth, I wanted to cringe.
The Bad
The only negative I can find in this film was that some of the dialogue was pretty overexaggerated and campy. I am not sure this is necessarily a bad thing, as it seems to match up with the somewhat indie style of the film itself. For example, while the shots are well done, they seemed to be a bit less than super professional. One of the "tattoos" on one of the characters was definitely done with a pen or a marker and was shown to the viewer in a very silly exaggerated way. So if you think that type of thing is funny, you will like this movie. If you think it is annoying, you might not.
Dragon: I can't tell if you're fangirling here or I've corrupted you in terms of cheesy movies… I hope it's more the latter than the former 😀
Overall
A bit of background, I was aware of this movie when Spooky Dan Walker was trying to get it crowdfunded a year or so after The Devil's Carnival came out. Then I forgot about it. Imagine how overjoyed I was to find out that it had actually been made! So, as a Spooky Dan Walker and TDC fan, I went into this movie very optimistically. And I was not a bit disappointed. It was super fun to watch! The plot was interesting enough to keep me riveted the entire time, and even while the ending reveal was set up well enough to be a bit predictable, I still loved it. This was a silly, fun creative Christmas romp and I would highly recommend it.
---