Trapped
HallowheelsLV
---
Location: Las Vegas, NV
Cost: $$
Sets:
Acting:
Theme:
Scare Factor:
---
Written by: The Dragon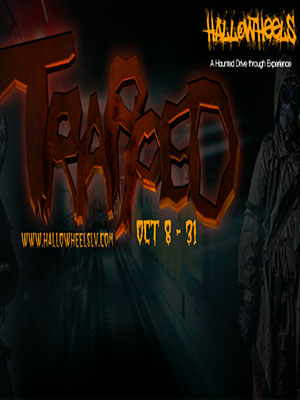 From their website "Trapped is an immersive post apocalyptic themed show for ages 10 and up." which sounded like a fun twist on Halloween haunts. Of course Bat and I had to check it out! I mean a drive through haunt… those weren't a thing in the past and it sounded like an interesting way to ensure COVID-19 social distancing.
Sets:
We pulled into a parking lot in the industrial part of Vegas which was aptly located off Industrial Road, once we got past the front gate it felt like we were in a post apocalyptic setting with just the right amount of the 80s Mad Max vibe.
They took advantage of things in the parking lot to work with their sets, we spotted a handy-cap sign being used to hold up a pallet with some debris. It was oddly neat looking debris… or maybe debris neatly organized, either way it helped add to the creep factor. Once we got into the theater area there was more of the same and a netting of sorts that went over/on the sides of our vehicle. We were also surrounded by large shipping containers and gates that were closed around the vehicles adding a trapped feeling.
Acting:
The acting was a little difficult to focus on due to it all happening outside of our vehicle. The introductory waiting area actors did a great job sneaking up on us and pulled off the look and feeling that they would rip us apart if we left our vehicle. Once we were in the theater area there was our helper who mimicked motions in sync with the dialog that was going on through our radio. The dialog was the right amount of cheesiness and fear inducing at the same time, it definitely gave off a "it's the end of the world and all we have left is sass and sarcasm as positives" feeling.
Input from the Bat
I feel like I have to give a bit of credit to a beforehand unheard of field of Haunt Acting: The Voice Over Guy! While in the past, the only place a voice over guy had a part was in the intro, but the recording that guided us through the experience definitely had a big part in this haunt, and the actor that voiced that did a wonderful job combining theater and almost a video game type level of scare and fun. The scriptwriter also did well, even throwing in a film reference or two.
Theme:
From the moment we entered the area to when we left it felt like they did a great job keeping the post apocalyptic vibe going throughout. The idea of a select few trying to hang on to the last tidbits of humanity having to fend off from those who had succumb to the more primal animalistic nature. I was a bit confused by the seemingly demonic boss of the show, maybe it was responsible for the apocalypse? Besides the demon part I thought it kept to the theme rather well.
Scare Factor:
I didn't personally get scared but I did see several interactions that could be scary to others. Unfortunately no one from the other car could be heard so I couldn't base it off other guests. I will however say I don't think their goal was to scare on any heavy level but instead it was intended to be a light scare and more so to leave the guests feeling uneasy for the event. As such I think they did a good job at creating that environment.
---