Couldn't Pass Up an Opportunity for Summer Haunted Attractions
Las Vegas Fright Nights
---
Location: Las Vegas, NV
Cost: $$
Sets:
Acting:
Theme:
Scare Factor:
---
Written by: The Bat
My social media is excitedly counting down the days to October, Halloween, and haunted houses. And of course, I am counting down right with them. So imagine my excitement when I see a post for a local haunted house that is having a one-weekend experience….in July! Yep! Haunted houses in July!
This Summer of Screams experience is put on by Vegas Fright Nights, a haunted attraction run at Opportunity Village every year. I have never been to this one myself, but have heard things about its growth and maturation since I have lived in Las Vegas. So I was very excited to go to their event. Plus they advertised it like it would be a party, music and food and dancing.
The two haunts they brought us for the summer were Nightmare Manor and Clown Invasion in 3D, a nice counterbalance of mood and atmosphere. After coming through the entrance, there was not much to see as far as set up for the haunts, with the exception of some fun murals painted on the walls. But we could hear chainsaws and the music was fun. Plus they had tons of misters going to combat the Las Vegas summer heat.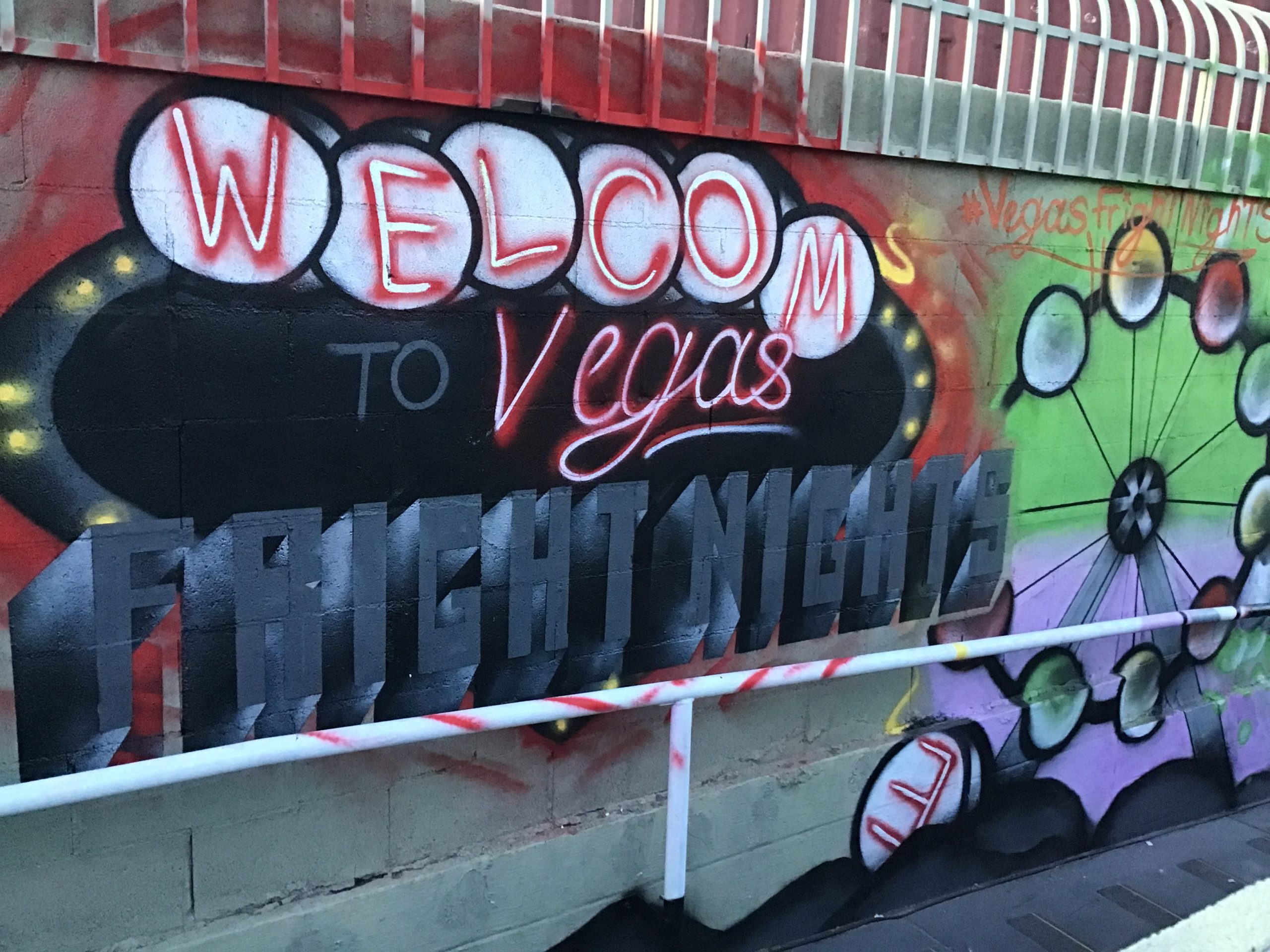 We joined the first line right away since there didn't seem to be much else going on. Plus we were super excited to see the haunts. As we went in between them, the entertainment played in the courtyard. I think I even saw some belly-dancing witches! However, the disadvantage of having haunted attractions in the summer, it was still bright daylight out even by 8:30 pm, and it was still broiling hot.
So we did not stay to see much of the entertainment. I don't know if this is their normal length, or if this was meant to be a preview to the actual haunts in October. Either way, we had a great time. But now…review time!
Sets:
This is one area they excelled in. The 3D clown haunt was beautifully painted, and the 3D effects kept making me want to touch the walls to make sure they weren't really popping out at me. They also had a lot of fun challenges, in addition to not being scared silly, of course. Facebook already spoilered this one, so I don't feel bad mentioning it. The ball pit was awesome! And much harder to get through than you'd think. It actually made you feel like you were going through a super scary fun house!
Nightmare Manor, while it did stick with a typical haunted house theme, had several very creative ways of decorating said haunted house. Even the pages of a book can be creepy if applied in the right way! So many fun things to look at, and a fun prop that even made me jump! I just wish there had been more of both houses.
Acting:
There didn't seem to be many chances for the actors to show their talents, but those who did seemed to do a good job. Some of the costumes were so amazing I had to take pics, and the actress in this picture even pretended to not know what a modern camera was, which was fun.
There were not a lot of speaking lines in either haunt, but the actors definitely had the timing and the atmosphere down for their scares. They knew when and how to feature certain props or sets, and did not feel the need to be the center of attention. I have had experiences with actors who thought they were the feature, to the point where they drew attention away from certain key parts of the haunt. These actors were the exact opposite. They knew their roles and their scenery well seemed to feel fully at home in their costumes and did a wonderful job.
Theme:
These haunts did have themes, which were clearly stated in their titles, and they did stick to them. However, the themes themselves were not too deeply thought out. They did not seem to have a story behind them or anything that the guests could sink their imaginations into. It was more like a themed birthday party than an immersive haunted adventure. For example, Nightmare Manor never told us how the scary people got into the manor, or even what they actually were. They just seemed to be thrown into the picture, mostly in time-appropriate clothes. And usually, clown haunts have only clowns as a theme, but the title Clown Invasion suggests a story. Where did they invade from? I hope these were maybe a bit abbreviated because they were a summer preview, and we can learn more if we come back in October.
Scare Factor:
These haunts definitely had a lot of fun things in them, and there were parts of the haunts that I could see being scary to a normal audience. One prop, well set up by an actor, even made me jump and shriek. But I feel like the haunts were too short to properly build up a scare factor. I wanted to see more! And as they gave free wristbands to the first thousand guests to see their real experience in October, and we got some, I am hoping to come back and see much more! And stay tuned, My Readers, as I will come back and tell you all about it!
---