Six Flags Fright Fest: The Best and the Worst
Six Flags Magic Mountian
---
Location: Valencia, CA
Cost: $$
Sets:
Acting:
Theme:
Scare Factor:
---
Written by: The Bat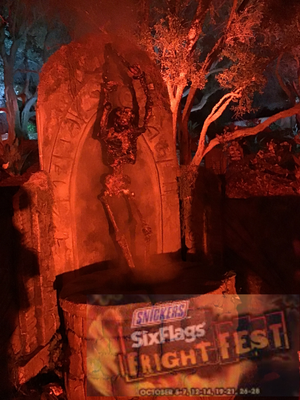 As expected of a haunt experience that is put on by a major theme park, Six Flags Fright Fest at Magic Mountain was huge. There were six haunt mazes and several scare zones, each populated with strolling actors specific to the theme. After riding roller coasters and playing in the sun all day, I do admit that these damsels were a bit daunted just by the idea of making it through all the haunts still awake. We were super glad for our front-of-the-line passes!
Haunt mazes seem to have a slightly different quality from some of the haunted houses we have gone through. That quality seems to present itself in a lack of caring for the back story. While you can read the theme of the haunts on the website, nowhere does anyone tell you why or how the story came into place. I'm not entirely sure that I like that, but it seems to be a common theme, not just with Fright Fest, but with a couple of places we have visited this year.
Lack of storyline aside, we had a great time at the haunts. And here is our review…
Sets:
As I said, there were six haunt mazes offered, and we went to all of them. The decor and sets were well put together, no major complaints there. Quality design and good use of space. However, three of the attractions blended together because of the similarity of their themes. Those were Willoughby's Resurrected, Vault 666, and Condemned. I am not sure I can entirely view that as a complaint, considering they did all stick to the theme. Also, as someone who has seen a lot of haunted attractions by now, the basic themes do seem to blend a bit.
The other three were much more memorable. Sewer of Souls was their black light setup haunt. While it was themed to be a sewer, the black light decor was more of the main focus. It was pulled together amazingly! Sometimes I couldn't even tell where the real walls were! And while the theme was a bit icky, a sewer, they managed to pull that off without being unnecessarily crude and gross.
Aftermath 2: Chaos Rising was very authentic. It was under the open sky and even had real pyrotechnics! I won't give too many spoilers, but some of the sets look like they were distressed versions of real objects. It looks like it would have been so fun to make, especially if you have some pent-up rage to unleash!
Truth or Dare, the newest one, needed work. The first room was awesome, but the rest often had just one large prop in the middle of a dark room. I couldn't tell whether it was simplistic or incomplete.
A few of the scare zones had sets as amazing as those inside the mazes, if not more so. The props in the steampunk zone were beautiful mixtures of metal and bone that both enraptured and gave the shivers simultaneously. And the black light forest was gorgeous! Mushrooms and spiderwebs and bodies galore!! I wanted to stay in there forever!
Acting:
The acting inside the haunts was good, but nothing super unique. The actors did their scares at good times, kept in character, and were appropriate for the haunt's theme. There were a couple of fantastic screamers and a couple of lackluster actors, but most were just good.
However, the strolling actors in the scare zones were amazing! There were stilt walkers and sliders for each section, and they formed their facial expressions and movements to the theme of the section. The clowns were creepy and in your face, the pirates were growly, but the actors in the black light area really took the cake. The stilt walker seemed like a completely regal magician, too high to notice her subjects.


And one black light painted witch came up to us and invited us to her witchy spa! She had the entire thing completely described in gory detail as if it was a real place, and described it in such bright conversational tones we were enraptured! We loved her!
Theme:
The mazes all depicted their themes beautifully. The sewer of souls was gruesome without being over-the-top disgusting. The apocalypse maze seemed to have its actors set to be unhelpful, forcing us to find our own way through a confusing mess of what used to be a city. Very well done, as the confusion was as scary as the maze itself. They filled the two haunted house types with beautifully creepy objects, too many to list or even remember. And Truth or Dare attempted to imitate Saw without paying for the rights. I could definitely tell what it was going for, even if it did not accomplish it well.
Scare Factor:
It may be because we were so tired, or because there were six of them, or because there was so much to see, but nothing particularly stood out as scary. There were a few good pop scares, and a couple of actors made me jump when they startled me, but that is the best it gets. There were a few of the other guests that were screaming and running around, but so it scares some people. I would say this event was more slated towards spooky fun than pure scare. It accomplished that! A great event to bring your family to, bring kids who are new at haunts and want to jump and scream a lot, but not the uber scaredy cats.
---