Neverland
Once Upon an Escape
---
Location: Las Vegas, NV
Number of Players: 2+
Cost: $
Props & Decor:
Puzzles:
Theme:
Overall:
---
Written by: The Bat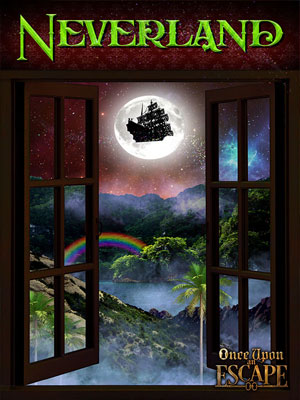 Props & Decor:
I can't talk about the décor in any of the rooms at Once Upon an Escape without first telling you about the décor of the venue itself. It was absolutely beautiful. The entire place felt like an enchanted forest, a fairy tale from the minute we walked into the front door. The room itself was just as fantastic, if fantastic can be used as a word to describe a fantasy world come to life. From Wendy's room all the way to a Neverland itself, the room was decorated with imagination and flair. Don't expect a replica of the Disney film, or any of the reimaginings that followed. This room kept with the ideals of Peter Pan, belief in fairies and a trip into another world, while somehow managing to be original in it's details. The props ranged from complicated to simple, even whimsical, but all of them were kept in perfect repair and fit into the room.
Puzzles:
I think this is the highest difficulty rating of any room the Daring Damsels have conquered together, and it definitely had a few challenging puzzles. The variety offered was one of the best parts. They were definitely complex enough to force us to think in creative ways, but not enough to need to take notes while playing. My favorite part, however, was how creative some of the puzzles were, and how immersive some of even the simplest puzzles were. While a few did take some figuring out, and one or two would have probably been impossible without hints (which were given promptly and were clear), and one or two I can't properly judge, as I had seen them before, the majority of them were solvable with just the right amount of creative thinking. Also, very importantly, they were all in perfect repair. You can tell that the owners of this company take pride in their rooms.
Theme:
This room was definitely immersive from start to finish. Of course, with the idea of an escape room, you have to include a bit of suspension of disbelief (why on earth would an evil mastermind leave you puzzles to escape instead of just locking you away, etc) But this room had the puzzles cleverly woven into their theme in every way possible. The décor was entirely immersive, making your feel as if you were making the journey to Neverland and back with every new room that you reveal.
Overall:
I loved this room and this venue. We were told it is a family owned and run business, and in my opinion, it seemed to be a labor of love at every turn. From the detail to the creativity, even to the level of maintenance that was obvious to someone who knows what to look for, you can tell that the creators of this put in 100%. This room flies as high as the Jolly Roger herself!
---