31 Movies for the 31 Best Days of the Year!
Written by: The Bat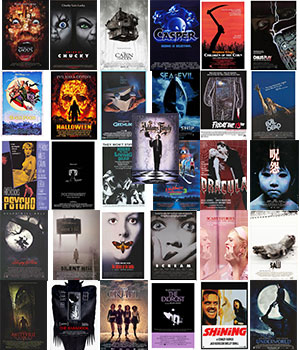 October is the best month for movies. You have witches and zombies, blood and goo, ghosties and beasties and so much more! Here are our top 31 to keep your nights filled with fun all the way up to Halloween!
1. Psycho
A woman checks into a ramshackle motel on a dark rainy night. She doesn't know that the owner is a mama's boy with a bit of a… stabby disposition.  This is a classic 1960 from the King of Suspense Alfred Hitchcock. PS… if you don't know what the blood is made of….well now I bet you want to.
2. Ju-on The Grudge
The build-up through the background story was a great setup for scares. Definitely a great interpretation of a haunted home theme. Also, a creepy contortionist and a kid who speaks in cat screams definitely didn't help a wandering mind before bed.
3. The Shining
"Come Play with us, Danny." Are they ghosts, psychic visions, or just the slow devolution into insanity? The booze sure didn't help… Or was that all imagination too? Jack Nicholson's crazy eyes. Elevators exploding with an ocean of blood and so much more! They will haunt your nightmares for a couple of nights after watching this Steven King film.
4. The Evil Dead (1981)
Shop Smart, Shop S-Mart! This is definitely more along with the comedy-horror genre but there's just something about Bruce Campbell's character. You can't help but feel for Ash as the movie progresses.
5. Casper
This nice ghost just wants a friend and finds one when a girl his age moves into his house. Great to watch with the family, full of laughs and touching moments to make you smile.
6. Poltergeist
This is an oldie but a good one, as long as you watch the original. I repeat, THE ORIGINAL. While it may seem a bit campy now, the little girl disappearing into the television screen is a classic scene in horror history.
7. 13 Ghosts(2001)
A haunted house story with a twist. Instead of just haunting the house, the ghosts are trapped there. With their own backstories and amazingly detailed costuming and makeup, the ghosts definitely steal the scene from the humans in a bloodily beautiful film.
8. Addams Family(1991)
This somewhat silly family film taught me an important lesson growing up. You don't have to be normal to be happy. It has the creepy, the cooky, the murderous, and unsettling, and you can't help but fall in love with the Addams family!
9. Lugosi's Dracula
I know classic movies aren't everyone's cup o' tea but there's so much to explore. The sets, the sexual innuendo, and Lugosi's masterful portrayal of Dragula. After all, it is often touted as the movie that made the horror genre blow up in popularity.
10. Scream
Wes Craven makes a horror movie that describes and almost makes fun of horror movies! With plenty of blood and a wonderful scream queen in Neve Campbell, Scream should definitely make any slasher movie list!
11. Child's Play (1988)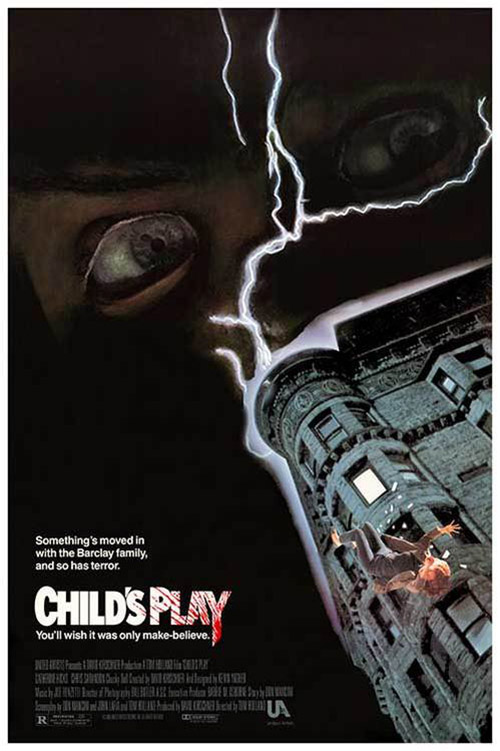 The introduction of Chucky, the infamous slasher doll! Possessed by a serial killer, he has to jump into a human or be stuck in plastic forever!  "Hi, I'm Chucky. Wanna plaaayyyy?"
12. Bride of Chucky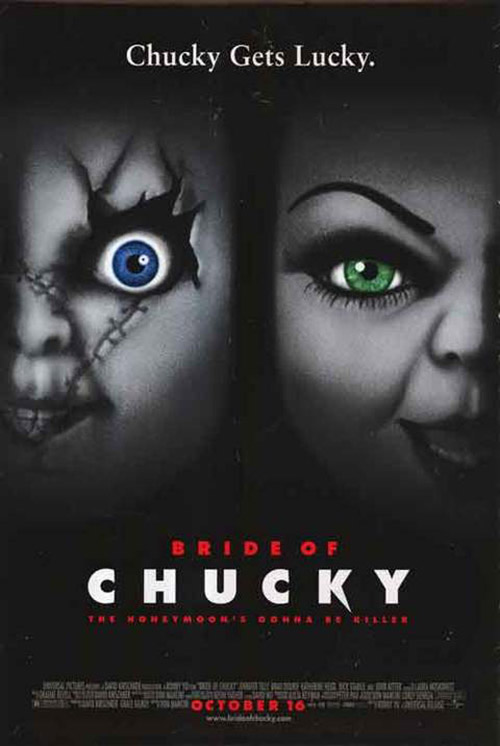 While Child's Play introduces the story, Chucky's bride, Tiffany, takes it to hilariously creative places. A new adventure, featuring not one killer doll but two, with so many new ways to kill….. (The mirror scene is my favorite, but I won't say anything else).
13. Scary Stories to Tell in the Dark
I loved the Scary Stories to Tell in the Dark books as a kid.  This movie has some of the original scary stories plus a new story to tie them all together. Best of all, thanks to Guillermo del Toro, the original illustrations that made the books so creepy are brought to life in horrifying color.   Plenty of chills, but not too scary for older kids.
14. Hocus pocus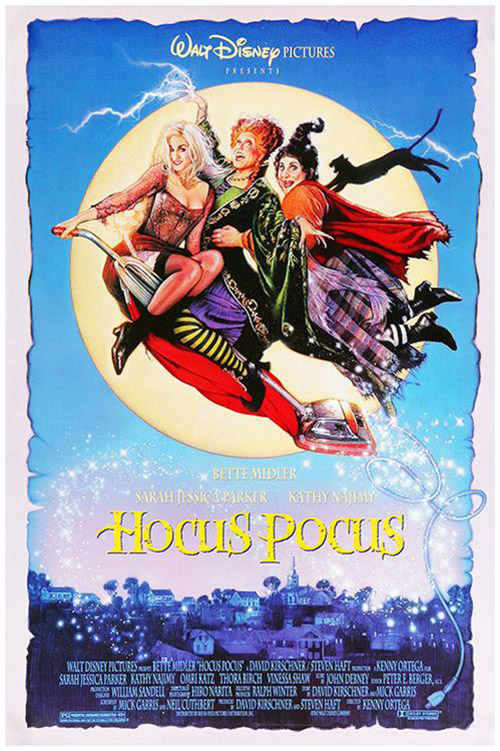 Start with 3 witches from 1692 that come back to life on Halloween night in Salem in 1993. Add a talking black cat and three plucky kids that have to save the town. Throw in a live singing performance by Bette Midler and your whole family will be laughing and singing along. You are never, ever too old for this movie and can never see it too many times.
15. Sleepy Hollow
The classic tale of Ichabod Crane and the Headless Horseman was put into the hands of Tim Burton and Johnny Depp. This version of the story has plenty of blood splatter and a definite sense of the macabre. Of course, Johnny Depp is monochromatically creepy.  Definitely a fun movie.
16. Nightmare on Elm Street 3: Dream Warriors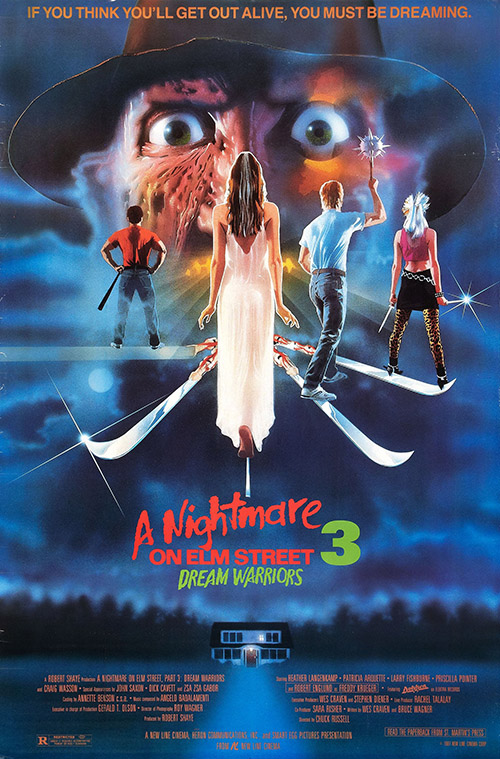 What's scarier than being attacked in your dreams? The series takes the fear of nightmares and brings them out into the real world too! I picked the 3rd in the series because it's where Freddie gets his butt kicked well almost. Best of all by what some would call misfits r outcasts.
17. Friday the 13th (1980)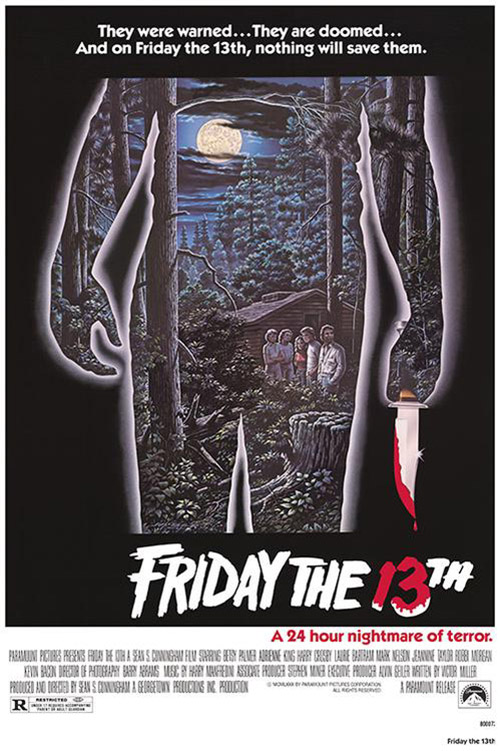 Summer camp fun times that were never meant to last. A kid getting picked on and jerks getting their just desserts. Maybe death is a bit too far? I guess we can agree to disagree… I kid. On another note, you won't believe how many people Jason kills in the movie!
18. Halloween(2007)
While I like the original I like Rob Zombie's take more because it left more of a lasting impression. It was dirtier, no not that kind geez. It held more of a real feeling as the movie progressed there was more dirt and grime. It felt more real, also it was scarier to have a humanized rage driving the "monster."
19. Saw
While many have their reservations with the franchise I picked the first because it started it all and did it best. Yes, there's a lot of gore but considering the genre, I think the first one barely crossed the line. The emotions the characters conveyed over their predicaments definitely humanized them and made them relatable.
20. Night of the Living Dead(1968)
This movie gave birth to the cult following of zombies. Zombies have existed throughout history, dating back to ancient Greece. However, it was Romero's take starting with this movie that defined "zombies" as we know them today in pop culture.
21. Ghost Ship(2002)
There's a grand party on the deck, what could go wrong? Nearly 20 years later and it is still one of the best scenes in horror movies. The toying with the crew's sanity by the ship adds to the panic throughout the movie. And there's a kid… kids are creepy.
22. Children of the Corn
Cause kids are creepy! Religious fanatical groups are scary. Child-run religious fanatical groups are even scarier. But the best part is watching a kid save the day when an adult can't throw a molotov cocktail right.
23. Cabin in the Woods
A bloody head trip directed by Joss Whedon. Not only does he put in a quick cameo from almost every monster imaginable, but the real villain is scarier than all of them put together.
24. Silence of the Lambs
Fava Beans and a nice chianti, quite the subtle joke. A serial killer who's skinning humans and an F.B.I. cadet needs to get help from a cannibal psychologist. It was a movie that broke all the rules of its day, my favorite being it starred a woman.
25. The Amityville Horror(2005)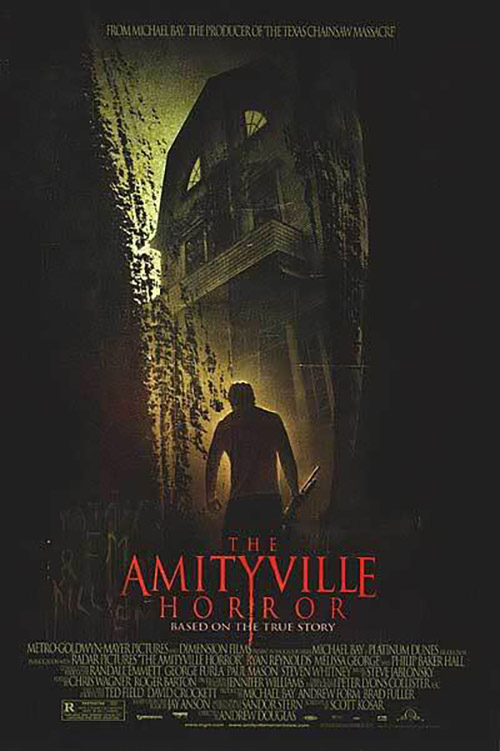 Definitely need to include one pure haunted house story in this list, and The Amityville Horror definitely fits the bill. I enjoyed the 2005 remake, but not having seen the original, I can't give you real advice on which one to watch. Either way, one of them should be on this list for haunted house awesomeness.
26. Gremlins
This is not just on the list because I want a stuffed Mogwai for Yule, although the adorable creature definitely stole my heart. This movie is a perfect example of how everything cute can become a terrifying disaster if you can't follow two simple rules!
27. Underworld
This is what a real vampire and werewolf movie should be! Leather and blood and weapons and fangs galore, all set in a world of darkness.
28. The Craft(1996)
One of the best witch movies ever made. Close enough to actual paganism to not make real witches throw popcorn at the screen, but goes far enough to make you believe in evil magic and what it can do. Fantastic performance by Fairuza Balk.
29. Silent Hill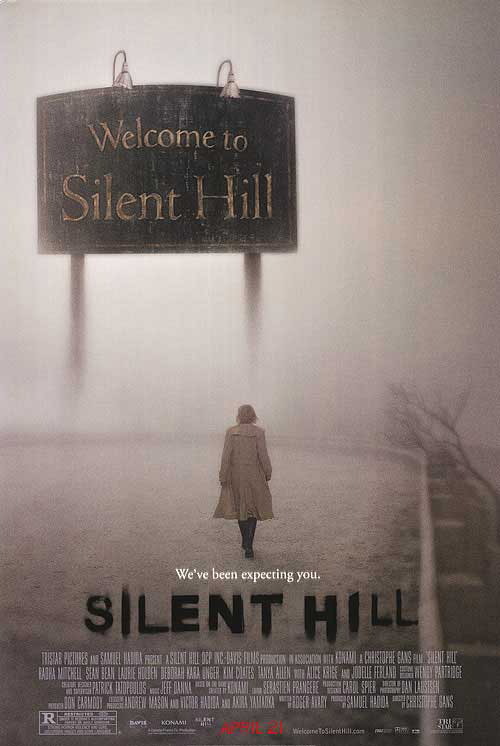 A town trapped in a Hell of its own making, and a woman and her daughter who find themselves pulled into its terrible story. And the terrible sirens that bring the nightmares to life. This movie is a horrifying nightmare that won't let you shut your eyes for a second.
30. The Exorcist
Another classic, one Linda Blair originally was ashamed of making. While the effects may seem a bit dated now, it was terrifying to watch in its heyday. The storyline is the origin of most exorcism movies to date.
31. The Babadook
The Babadook does a great job at painting the harsh realities of being a widow, single mother, and child of a single mother. The psychological elements feel very real and relatable throughout the movie. Does the monster come to life from the book or from the effects of minds being worn down from anxiety and depression? I still can't decide which side I stand on, either way definitely worth the watch.
---